Regional Government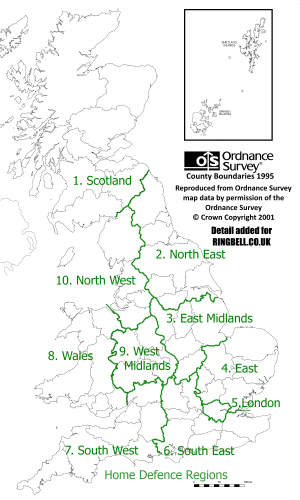 It was thought that following a nuclear attack on the U.K., Central Government control would be impossible to maintain. Until this could be restored a Regional Commissioner sited in each of the Home Defence Regions would take full control. The map shows the division of the UK into Home Defence Regions. Advisers from Government departments and other Civil Servants would support the controller.
The original plan had the Regional Controller housed in a single protected bunker within each Home Defence Region. During the cold war period policy changed a number of times. The initial single centre was increased to two centres per region, although some regions actually operated for some or all of the Cold War with only one functioning centre.
The terminology for the Regional Government centres changed too. The original Regional Seat of Government (RSG) or (RSoG) became Sub Regional Centres (SRC) when the number increased to two per region. After another policy change these were renamed to Regional Government Headquarters (RGHQ). There were a number of location changes along the way too. It is beyond the scope of this web site to examine the policy changes, as we are concerned with electronic communications rather than politics. Other sources on the web can provide this detail for you.
The Regional Headquarters were the top tier in the government communication channels extending down to Local Authority (Local Council) Emergency Centres. Due to the highly secretive nature of the Central Government War HQ (CGWHQ) at Corsham, it did not appear in the Emergency Communication Network (ECN) directory, so it is not known whether it was linked in or not. Some documentation in the National Archives shows private circuits to Regional Headquarters at a time when they were known as RSG, which is before the ECN. It is not clear if these circuits really existed or were just proposals to be connected during the transition to war. As both the CGWHQ and Regional Headquarters were connected to the GPO E.M.S.S., throughout the period, communication between the two would be possible via that network.