The Final Speech and Telegraph Networks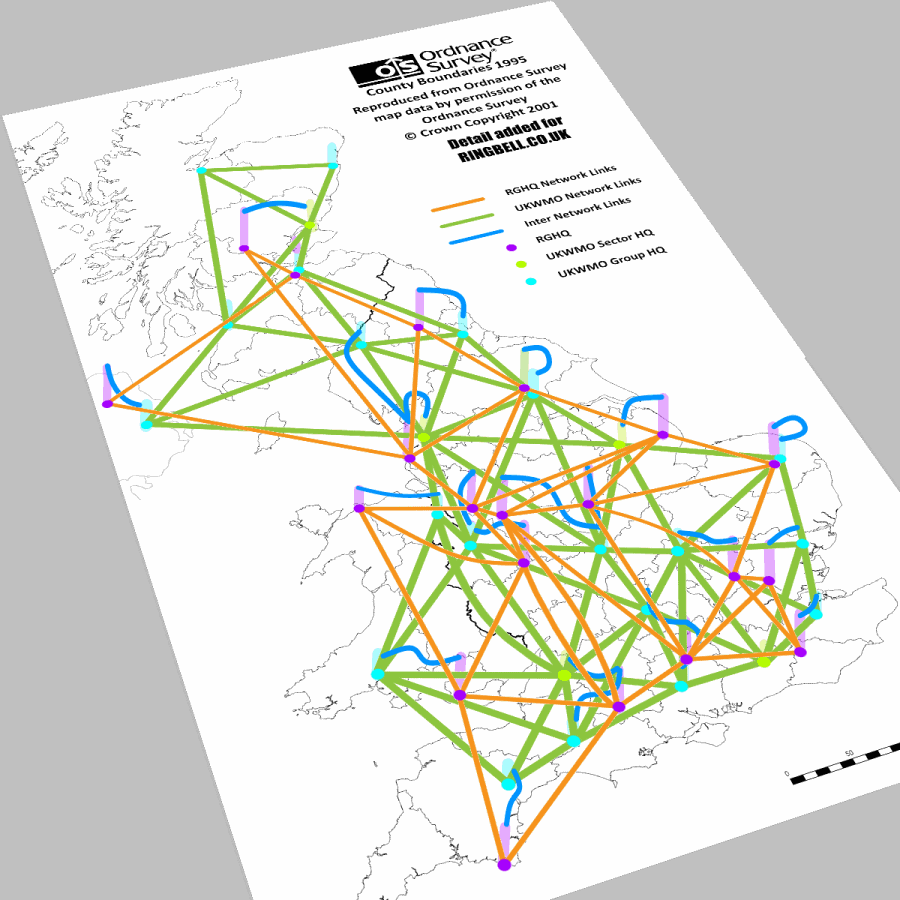 This map shows the two core networks, the Emergency Communications Network (ECN) for Regional Government Headquarters, in orange and the other for the United Kingdom Warning and Monitoring Organisation (UKWMO) in green. The two are linked between the RGHQ to its UKWMO Group Control, shown in blue. The ECN is also connected down to Local Authority Emergency Centres (LAEC) and regional Armed Forces Headquarters (AFHQ). In the telegraph subsection further down this page, the extent of the network at County level will become apparent.
In this 2nd Generation network the main transmission links for both networks were carried on BT Landlines as they had been in the 1st generation. For the main core, landlines were provided with a radio backup by the Home Office Directorate of Telecommunications ( D-o-T ). Both the ECN and the UKWMO network began using the same radio bearer network known as Radio Network One (RN1) for the backbone and Radio Network Two (RN2) for the spurs to operational buildings. The 1st Generation radio networks, using VHF for the UKWMO and UHF for the Government Control Network (GCN) were recovered during the mid-eighties. It is unclear whether the replacement 2nd generation network on RN1 & RN2 was ever fully completed before stand-down in 1992. It certainly worked in some areas and if not others, even by 1990 there was a large hole in RN1, around the North West of England, without any radio equipment or aerials installed.