Former RGHQ Locations
The map and the table below show the locations of the Regional Government Headquarters. The history of Regional Government before the sixties is beyond the scope of this topic as information about their communications networks is very sparse and not enough is known to be able to write anything meaningful.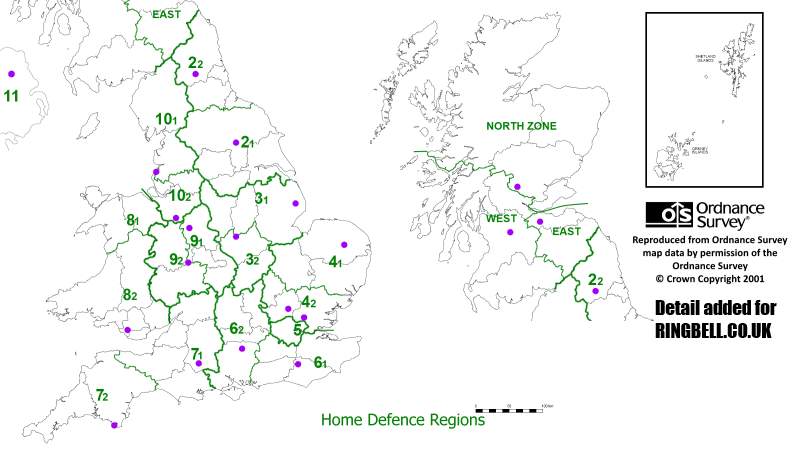 Where the same Regional Code appears twice in the table, the first entry was later replaced by the second location around the time shown as 'In Service' date.
Regional Government Headquarters Locations
Code
Location
OSGB Ref.
Lat/Lon
In Service
Original Purpose
Region 2, North East
21
Shipton
SE542618
54.049323, -1.173673
early 1960s
Rotor SOC
22
Hexham
NY938644
54.974174, -2.098389
early 80s
Cold Store
Region 3, East Midlands
31
Skendleby
TF438709
53.215705, 0.152108
mid-60s
Rotor
32
Loughborough
SK541205
52.779381, -1.199405
1981
Cold Store
Region 4, East
41
Bawburgh
TG165080
52.626561, 1.197407
mid-60s
Rotor SOC
42
Hertford
TL325123
51.793666, -0.080131
mid-60s
Basement Govt Building
Region 5, London
51
Kelvedon Hatch
TQ561995
51.672587, 0.256073
early-60s
Rotor SOC
Region 6, South East
61
Dover Castle
TR320420
51.130260, 1.314483
1962
WW2 Tunnels
61
Crowborough
TQ476292
51.043200, 0.104092
1987
WW2 Radio Station
62
Basingstoke
SU639524
51.267181, -1.085481
60s
Basement Govt Building
Region 7, South West
71
Ullenwood
SO936174
51.855152, -2.094328
50s till 85
AAOR
71
Chilmark
ST985300
51.069329, -2.022785
1985
Purpose Built RGHQ
72
Bolt Head
SX716374
50.224852, -3.798431
mid-60s
Rotor
Region 8, Wales
82
Brackla
SS916805
51.512992, -3.563507
60s
Ordnance Factory
Region 9, Midlands
91
Swynnerton
SJ845332
52.896273, -2.232392
62
Ordnance Factory
92
Drakelow
SO820810
52.426684, -2.266141
50s
WW2 Factory
Region 10, North West
101
Southport
SD340174
53.648858, -2.999407
64 till 80
Basement Govt Bldg.
102
Hack Green
SJ647483
53.030811, -2.527811
84
Rotor
Region 11, Northern Ireland
111
Belfast
IJ321702
54.562681, -5.959004
60s
Regional War Room
111
Balleymena
ID138043
54.873228, -6.225629
1989
Purpose Built RGHQ
Region 1 Scotland
N Zone
Anstruther
NO568088
56.269707, -2.699108
mid 1960s
Rotor
N Zone
Cultybraggen
NN768202
56.358035, -3.995543
1990
Purpose Built RGHQ
E Zone
Kirknewton
NT104684
55.900348, -3.434541
mid 1950s
W Zone
East Kilbride
NS653526
55.747975, -4.147512
1953
AAOR
HQ
Edinburgh
NT203748
55.959579, -3.278149
before 1963
Rotor SOC