Carrier Telephony in the UK
By the sixties the long distance cable network contained many carrier cables, mostly between the major cities but others routed to avoid the centres of population that might be a target in a nuclear war. When introduced in the nineteen thirties, the carrier system allowed 12 separate circuits to be carried on two pairs of wires, one pair in the 'Go' direction and the other pair in the 'Return' direction. Usually all the 'Go' pairs were in one cable and all the 'Return' in a second parallel cable to avoid interference between the two directions. Cables working at carrier frequencies exhibit greater losses than those working in the audio frequency band and required amplifiers every 30 miles.
Further enhancements post WWII allowed two groups of 12 circuits per pair in each direction, thereby doubling the capacity to 24 circuits. With 24 pairs in each of the 'Go' and 'Return' cables, this offered a maximum capacity of 576 circuits. Cable losses at the higher frequencies needed for 24 channel working required amplifiers at approximately 15 mile intervals. Some of the existing repeater stations were retained, but numerous new repeater stations were built to achieve the 15 mile intervals between amplifiers. A standard building design simplified the process. This was known as the "R3 Type" of repeater station building.
A detailed explanation of speech multiplexing used to get 24 circuits per pair on carrier cables is provided in a separate chapter on this website. Found in the Miscellaneous Topics part of the Chapter Menu.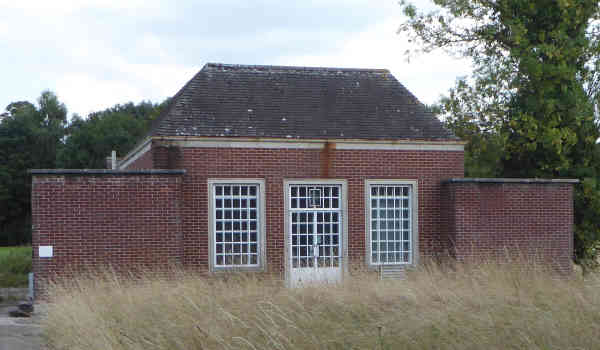 In the days before semiconductors, sizable buildings were required to accommodate the bulky thermionic valve amplifiers, one per cable pair, 48 in total for the usual 24 pair cable type. As well as the amplifiers themselves, a large power plant and standby generator was required to supply the considerable amount of energy consumed by the thermionic valve heaters and high voltage anode supply.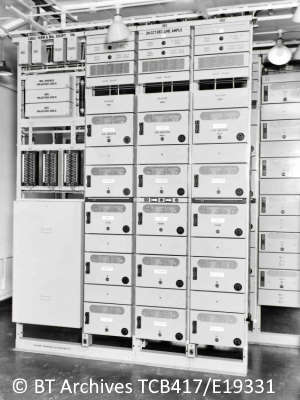 At the Terminal Repeater Station, 24 individual audio circuits are multiplexed and sent along a 'Go' pair and demultiplexed from the 'Return' pair. The carrier cable has either 14 or 24 pairs of conductors, each 1.27 mm in diameter, the overall size of the cable is approx. 34 mm in diameter. If fully equipped, a pair of 14 pair cables has a capacity of 336 circuits, while a pair of 24 pair cables has an ultimate capacity of 576 circuits. There will be a terminal station at the other end too, but not shown below.

At intermediate repeater stations, the incoming carrier on each pair is amplified and sent out over the next section of cable. An intermediate repeater station may have more than one cable route passing through it. In that case, not shown in the simplified diagram is the flexibility to break off one or more pairs onto another cable for a different destination.