Carrier System WB300 - Nuclear Radiation Leak Warning System
This topic is a place holder as I have little specific details of this system, other than it operated over the on-site PABX network at the Atomic Weapons Research Establishment (AWRE) Aldermaston. I welcome any further information and feedback via the website Home Page.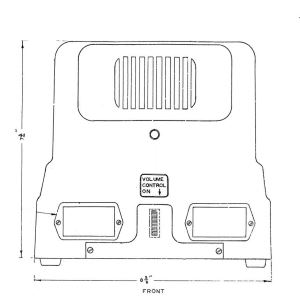 The G.P.O. Engineer-in-Chief Reports for 1954 - 1965 held in the BT Archives reveal quite a lot about the development of a system for the U.K. Atomic Weapons Research Establishment (A.W.R.E.) The 1955-56 Report, says a system with 3 control points and 500 Receivers (using valve technology) had been supplied and partly installed. By 1957, a further 100 transistorised receivers were needed, but a shortage of transistors delayed the supply until 1958-59. By the 1959-60 report the number of working receivers was 600. The 1963-64 Report says The warning system operated by carrier working on the P.A.B.X. network at this establishment [ A.W.R.E. sic] continued to grow and additional equipment was provided to give automatic alarm facilities in selected areas in case of a criticality incident.
The final mention of the A.W.R.E. comes in the 1964-65 Report, Contracts were placed for transistor-type receivers to replace the original valve-type receivers which have been in continuous use since 1955 and are now approaching the end of their useful life. The new receivers should have a much longer life and low fault liability; the use of transistors enables stand-by batteries to be provided using nickel-cadmium cells. These receivers, A Receiver Carrier WB303A, have a very similar appearance to the Civil Defence WB400 receiver, with the addition of a red pilot lamp on the front under the speaker and a plate covering the area occupied by the drawer.