A Typical U.K. Air Raid Siren Station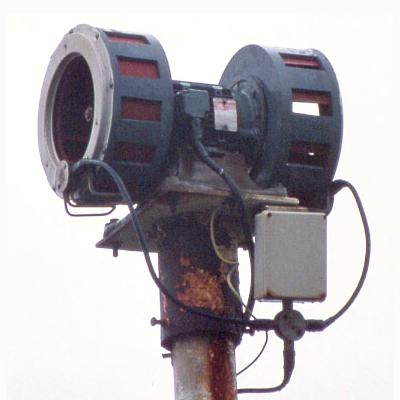 Patrick Bean sent me this nice detailed picture of a siren. If you look carefully, two cables come up the pole. One cable connects directly into the siren body. This is the 3-Phase A.C. supply to the motor. The other goes to the 4 way junction box under the grey thermostat box. At the 3 and 9 O'clock position, wires come out to the fan units and go into another junction box where two 'Pyro' type of copper clad heater wires come out. Each fan assembly has a 1 kilowatt heating element to prevent it icing up in the British weather.
Pole Mounted Sirens
It was standard practice to locate the siren on the roof of a tall building but if suitable premises didn't exist the siren could be pole mounted and the control equipment housed in a street cabinet.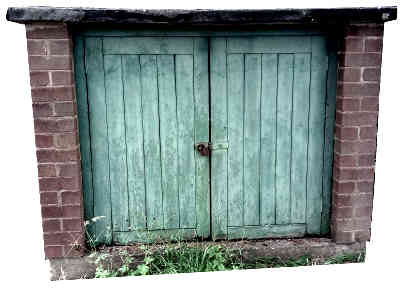 The first three images in the gallery show, firstly an unusual roof mounting in Sale, Greater Manchester. Next - A double wooden pole mounting, guyed for stability. The siren was attached to the lower set of girders, similar to the next image of the Winterton-on-Sea flood siren. Example of a locally constructed table, now restored. Used when mounting on the roof of a building, lifting the siren above the obstruction of a parapet. Three images taken in London during 2012. A brick built standard design of street cabinet, West Mids. Sirens mounted on a single pole, are bolted to the pole cap shown in the gallery.
Fire Sirens
In rural areas Fire Stations are often manned by part time personnel. In the days before personal pagers, retained firemen had a bell inside their house. When away from the bell at home, a siren at the firestation would sound to tell them to make their way to man the fire appliance. This siren which usually was mounted on the drill tower served a dual purpose and could be used for Civil Defence purposes by operating a switch at the fire station.
Once alerting pagers were introduced during the seventies, the fire sirens were kept in situ for Civil Defence only.
Siren Station Planning Document
The Home Office used a standard arrangement for the siren station as detailed in this sheet kindly provided by Russell Barnes. This planning guide shows the sizes and weights of the various component parts making up a complete station. The siren controls were located on the switch panel described in the next sub-topic.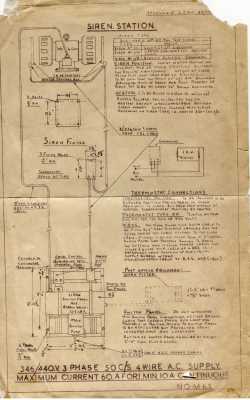 If the siren was mounted on a building, the siren switch panel was often located close to the point where the electricity supply entered the building housing. Its supply was taken from the non-metered side of the incoming mains. A pole mounted siren would have its switch panel in a nearby cabinet. These have variations from the standard siren station pattern, such as the provision of a heater to stop moisture buildup.