Background to the UK Analogue Telephone Network
Following the Nationalisation of the telephone companies in 1912 the UK telecoms infrastructure was run by the GPO / Post Office Telephones and in 1984 an Act of Parliament changed it into a public limited company British Telecom (BT). Prior to that the GPO analogue network was very different from today's digital networks. There was no competition from operators in the market such as Mercury, Sky, TalkTalk or Virgin, as there is today. The GPO was the sole provider of telephone communications for the public and military.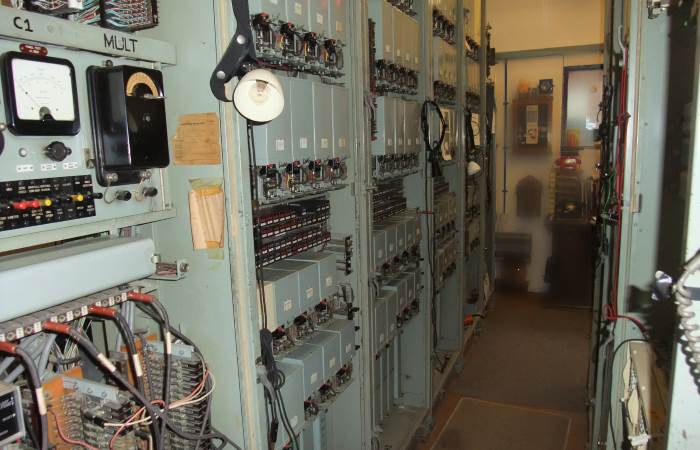 At the start of the cold war, less than a quarter of people had a telephone in their own home, there was often a waiting list for a telephone, two residential customers may have had to share a line, with no privacy between them. Unbelievably, there were advertisements to discourage calls at certain times of the day and to encourage users to keep their calls to a short duration.
Many towns still had a manual system, requiring the user to pick up their handset and ask the switchboard operator for the number they required. Over 2,500 of these UAX 13 exchanges were in service by the mid-sixties, typically found in villages providing lines for up to 400 customers, it offered automatic dialling facilities.
In areas with automatic exchanges, local calls (classified as within a radius of 20 miles) could be dialled directly. Automatic long distance dialling known as Subscriber Trunk Dialling (STD) was introduced at Bristol in 1958. Full national rollout took in the region of 20 years. Before STD, automatic exchange customers wanting a call over 20 miles dialled either '0' or '100' for the operator who then connected the call. Even after the introduction of STD it was a number of years before every part of the country could be dialled directly, requiring calls to those other places still to be connected by the operator.
Major towns had an analogue automatic telephone exchange known as a Group Switching Centre (GSC). This exchange switched customer dialled calls within the local area. It housed the group routing and charging equipment for STD calls within that same area. Often there would be a co-located Auto-Manual Centre (AMC) housing operator switchboard positions handling long distance calls that couldn't be dialled directly, directory enquiry and 999 calls for the local area.
During the nineteen seventies, home telephones gradually became more common, so by the eighties the majority of homes had one. Analogue mobile telephones the size of a brick only started to appear in the early nineties just as the Cold War was ending, but the high price of handsets and calls restricted their use to mainly business users.
Starting in the mid eighties, the BT network was slowly modernised from an analogue to a digital system, culminating with a totally digital network by 'Phoneday' on April 16th, 1995. The cold war having finished a couple of years earlier.