The CONRAD Network
CONRAD would provide a basic printed text message service to Regional Civilian Government and the Military. It would not pass the routine messages originated from ROC observations.
Following a nuclear strike on the United Kingdom, it is likely the damage would significantly disrupt landline communications. At the time the GPO had a monopoly of landline communication in the United Kingdom. Not only did it provide the public telephone and telegraph network (TELEX) but anyone with their own private switching units had to lease a landline (private wire) from the GPO, to connect those switches together. The UKWMO network and the RGHQ network at that time known as the Government Control Network (GCN), Military telephone and Military telegraph all had their own switching centres but relied on GPO landlines. The Country's eggs were all in one basket, in the hands of the GPO, a government ministry at that time.
The UKWMO and GCN also had standby radio circuits in case of landline failure due to an attack, but these routed via exposed hilltop sites which also may have sustained blast or EMP damage.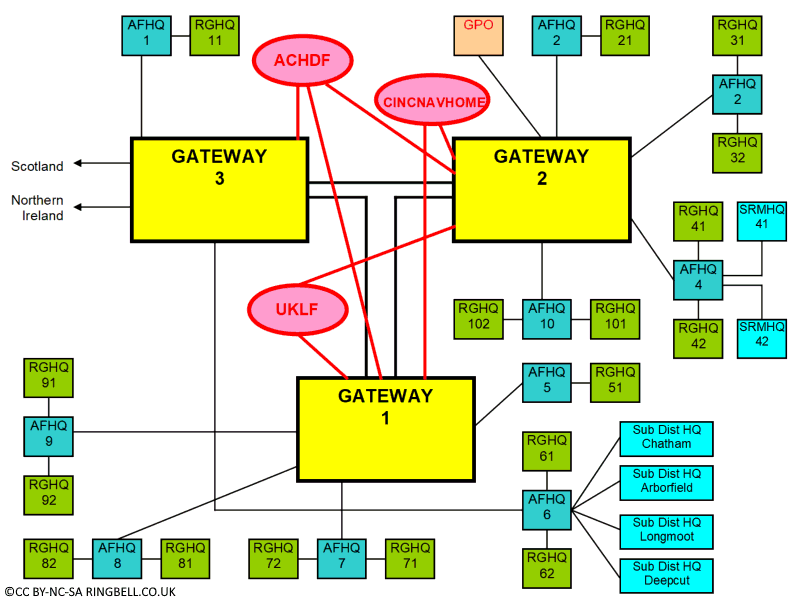 Key to Drawing:
AFHQ: Armed Forces HQ
SRMHQ: Sub-Region Military HQ
RGHQ: Regional Government HQ
ACHDF: Air Commander Home Defence Forces
UKLF: HQ U.K. Land Forces
CINCNAVHOME: Commander-in-Chief Naval Home Command
The declassified JSI on the subject of severe landline disruption
47. In this situation, Regional Military Commanders and Sub regional Military Commanders will use the facilities of the CONRAD radio teleprinter communications system, the Sub Region Military Command Net, and the Regional Command VHF radio system (project MOULD) when in service.
The declassified JSI gives a General Description,
56. The military Home Defence radio communication system is shown in outline at Annex F. It is referred to as the CONRAD (Control by Radio) communication system, and is essentially provided by the TAVR Signal Regiments of 2 Signal Group, with certain links / radio terminals provided by other units of all three services.

57. CONRAD communications are established in the POST STRIKE phase, for the purpose of providing an early National Communication System to be used by both civil and military authorities in the task of the recovery of the Nation.

58. Essentially, the system consists of a number of HF radio teleprinter links from three GATEWAY locations to surviving AFHQs and SRHQs / SRMHQs. Additionally, a further four radio stations are provided for each Sub Reg Mil Comd for the control of military units under his command.
Paragraph 47 of the JSI refers to the VHF wireless system known as MOULD which came into service in the seventies. A full description of this can be found via the website menu.