Introduction
A very clever system known as Speech plus Duplex Teleprinter, S+D or S+DX was used in the UK Civil Defence network to carry duplex teleprinter signals over the same lines as duplex verbal communication. This system was not exclusive to Civil Defence, but was used in the public network too. A complete description may be found on Page 191 of TELEGRAPHY by R N RENTON 1976, ISBN 0 273 40846 1
About Telegraphy
Telegraph signals were generated by a teleprinter or tape reader and received on a tape perforator or teleprinter. Telegraph signals operated at 50 baud by sending 80 Volts Positive and 80 Volts Negative along the two wires. Each character consisted of 7.5 elements - one start bit, a 5 bit code, then 1.5 stop bits sent serially down the line.
The range of a directly connected teleprinter was limited by line resistance. To go beyond this limit and to use telegraph over radio circuits where there is no direct metallic path a system of converting the 80 volts signal to voice frequencies was developed. These systems are known as Voice Frequency Telegraph (VFT) for a single channel or Multi-Channel Voice Frequency Telegraph (MCVFT) for usually 18 or 24 channels per circuit.
About Telephony
Human speech consists of a spectrum of audio frequencies from a few Hertz to many tens of Kilohertz. However the human brain can still decipher words even when a large part of this spectrum is missing. The telephone network makes use of this human ability by restricting the bandwidth from 300 Hertz to 3400 Hertz. The Hertz unit is the modern name for what was previously known a cycles per second and describes the number of times the vocal chords vibrate.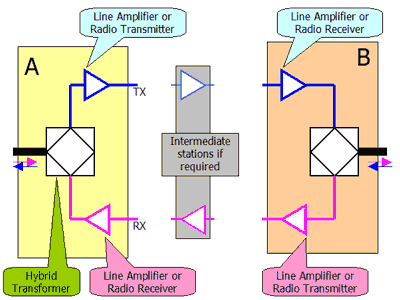 In the telephone, the microphone converts the sound waves into an electric signal. At the other end the earpiece converts the electrical signal back to sound waves. A single pair of telephone wires carries the speech signals in both directions simultaneously. Both people may speak at the same time, which is known as duplex operation.
Over long distances it is usual to use a 4 wire circuit to carry the telephony circuit. Two wires carry the speech from A to B and another two from B to A. The two wires taking the voice away from this point are designated Transmit (TX) and the pair bringing the voice from the other end are designated Receive (RX).
Avoiding a long technical explanation, this is done to make the amplification easier. At each end a special device known as a hybrid transformer converts from a 4 wire to a 2 wire circuit. The hybrid transformer prevents the received voice from being sent back towards the originator. Without the hybrid transformer the circuit would 'howl' in the same way as a person on stage with a microphone can get feedback from the auditorium speakers. Where telephony is carried over radio circuits two of the four wires are connected to a radio transmitter and two to the receiver. These work with separate frequencies operating in each direction (duplex mode) so the telephone user is unaware a radio link carries their call.