County Wide Radio Schemes
The 1979 World Administrative Radio Conference (WARC) required the United Kingdom remove its Emergency Services low band mobile radio allocation from the 100MHz public radio broadcast band.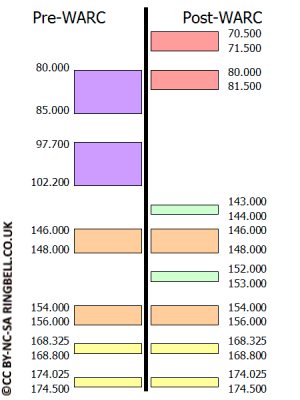 The changes to the Emergency Service radio frequencies were phased in between 1987 and 1989. During the changeover both the old and new main station frequencies were maintained until all the mobiles converted to the new bands.
To facilitate the release of the 100MHz broadcast band, two new bands
(143-144MHz
and
152-153MHz)
were allocated in VHF high band in addition to the two existing bands
(146-148MHz
and
154-156MHz)
previously only used for links between main stations and hilltops, and the Royal Observer Corp (ROC) network. The ROC links were removed from these allocations but retained their 168 and 174MHz bands. A new VHF low band
(70.5 - 71.5 MHz)
was allocated for use by the fire brigade base stations. Their mobiles transmitted in the existing home office band at 80MHz, but now reduced in size to
80 - 81.5 MHz
.
Police main station transmit and receive channels were now interspersed with link frequencies. Having a mixture of links and main stations within one band helped defeat eavesdropping by users of scanning radios. Some Counties used the two new bands, the
143-144
band was for Mobile Transmit and Control Room to hilltop links, the
152-153
band for the Main Transmitter channels and hilltop links to the control room. Those Counties not using the new bands remained with
146-148
for Mobile Transmit and Control Room to hilltop links and
154-156
at hilltops.