Carrier Control Area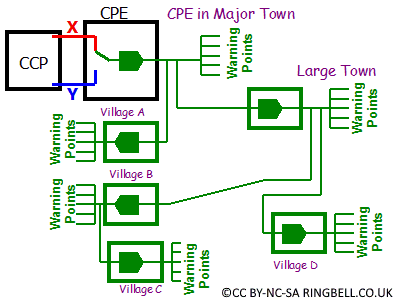 Considerable changes were made in the way the carrier was distributed when WB1400 replaced the old system. Only the feed from the Carrier Control Point (CCP) to the Control Point Exchange (CPE) remained duplicated. The CPE control shelf selects one supply for further distribution around the network.
Duplicated distribution feeds were considered unnecessary as by the nineteen eighties most small exchanges were fed by underground cable, therefore less prone to faults. If an exchange loses its carrier feed, an exchange fault alarm is raised, previously this was only detected when customer's local call charging failed.
Usually there are a chain of exchanges, each feeding the carrier to the next. New features were introduced so the loss of incoming carrier at one exchange didn't cause false alarms at exchanges further along the chain.
Working Example
Here we use Carrier Area No. 036 Swansea and Carrier Area No. 037 Carmarthen to illustrate two adjacent distribution networks. These were surround by other areas at Haverfordwest and Cardigan, not shown on the map.
The Swansea Carrier Area comprised of Swansea Control Point Exchange (CPE) and 47 dependant distribution exchanges. The Purple coloured links in the enlarged diagram show the chain of carrier feeds radiating from Swansea CCP. In most cases the carrier is transferred between exchanges using phantom working over two pairs of wires. A description of phantom working is too technical for the scope of this page. Over the short distance between Mayals to Mumbles exchanges, only a single pair of wires was required to transmit the carrier.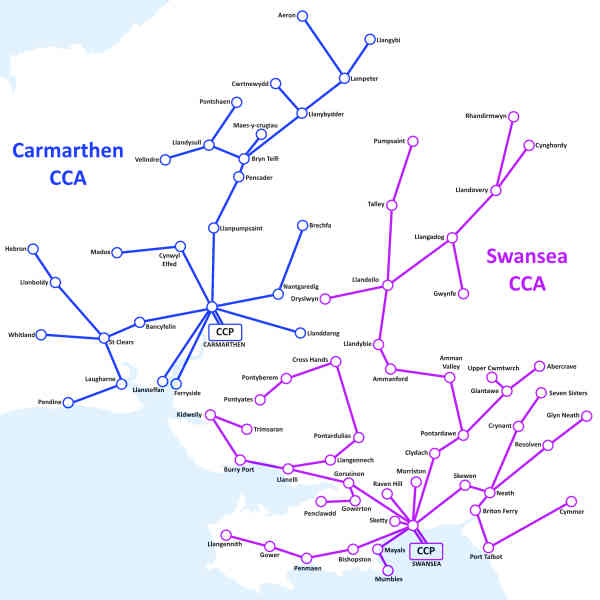 On the six links shown in Blue in the enlarged diagram, the 72 kHz carrier could not be extended over the cable network as the losses were too high at the carrier frequency so they are sent as audio instead. At the feeding exchange, the carrier is demodulated to audio by a Unit WB 1400/6A. At the receiving exchange the normal carrier Pre-Amplifier (Unit WB 1400/2B) is replaced by a Local Oscillator / Modulator (Unit WB 1400/3A). The incoming audio modulates a locally generated 72 kHz carrier for distribution to its own customers and in the case of Llandeilo to feed the carrier forward to Dryslwyn, Talley and Llangadog exchanges, for further onward distribution.
To safeguard against the failure of the audio feed circuit, the /3A unit, monitors the 'G' tone sent every six hours by the CCP as part of the siren receiver test signal. If this is not received after 24 hours, an exchange prompt alarm is raised to alert maintenance staff.
The Carmarthen Carrier Area has the CPE and 26 dependant exchanges, with the carrier fed over two pairs between each exchange but no audio feeds. The map shows how exchanges along the boundary of the two areas are fed from their respective control point although cables may exist between those exchanges carrying normal telephone calls.