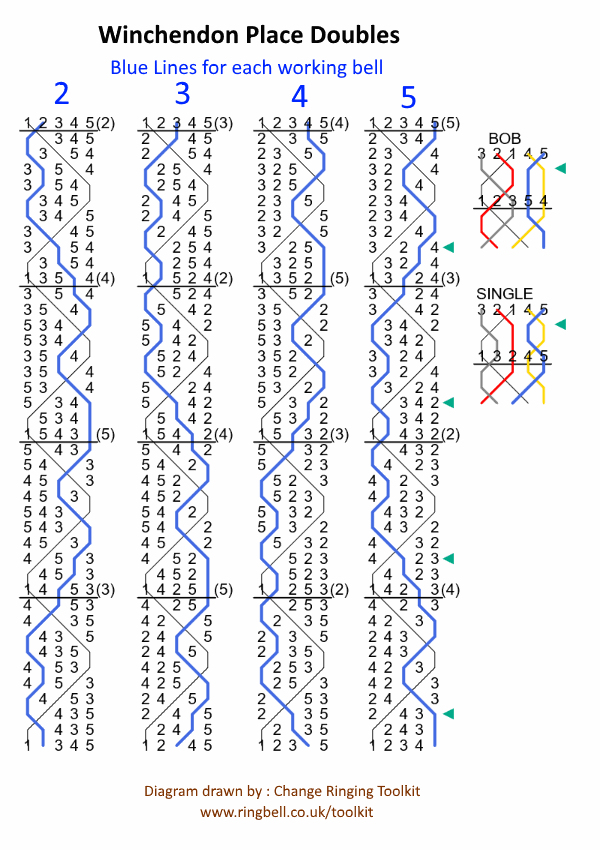 Winchendon Place Doubles
Where do I start?
This diagram shows the order of work in the method. The accompanying table shows the first few changes in the method and the first work you do as you move around the circle.
Starting Positions in Winchendon Place Doubles
Bell
No
Starting
Places
Starts
With
First
Work
2
(2)LL22LL23..
Lead, 2nds lead and
3/4 Places Up
4
(4)4554334..
4th place, 3rds from the back, then
Long Fifths
5
(5)5433455..
One blow in fifths, 3rds from the back, then
3/4 Places Down
3
(3)32LL22L..
3rd Place, lead then 2nds and
2nds
Work at Bob and Single in Winchendon Place
This table illustrates how you will be affected if the conductor calls a Bob or Single. If you are not about to do the work tabled, continue the work unaffected. Note:- When unaffected the places will stay the same but order you meet the bells changes.
How the Conductor's calls affect your work
About
to
Do
Bob Called
Single Called
Do This
Next Work
Do This
Next Work
3/4 Places Down
44332LL..
Two more blows 4ths, Do the work of the 4th place bell.
4444554..
Long 5ths
Make 5ths, Do the work of the 5th place bell.
4455433..
3/4 Places Down
2nds
L22LL22..
Make 3rds, Do the work of the 3rd place bell.
L2332LL..
2nds
Unaffected
3/4 Places Up as usual
3/4 Places Up
33445543..
Run In, Do the work of the 2nd place bell.
332LL22L..
3/4 Places Up
Two more blows in 3rds, Do the work of the 3rd place bell.
33332LL2..
2nds
Long 5ths
55554334..
Unaffected
3/4 Down as usual
Only Two blows in 5ths, Do the work of the 4th place bell.
55445543..
Long 5ths
Tip: This method is very similar to St Martin's Bob Doubles but its 3/4 dodges are replaced by 3/4 places consequently the bell start positions are different. All the other work is the same, 2nds places either side of seconds and 3rds from the back either side of long 5ths.
Printed from RINGBELL.CO.UK/METHODS