Plain Hunt Triples (7 Hunt Bells + Tenor)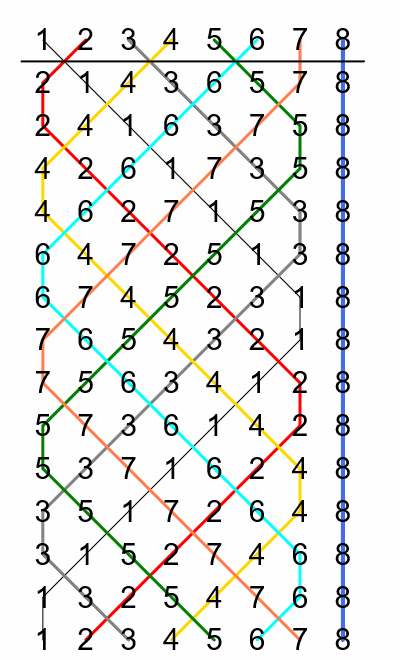 Most people start to learn Plain Hunt by remembering the bells they ring after. It must be stressed that as soon as possible, you should start counting places as this is essential when you move on to more complicated things. The places are important as they give an indication of the speed to ring at. When counting UP, you will have to ring slower than in rounds. When counting DOWN, you must ring quicker in order to be able to follow the correct bell.
The table below describes the work of every bell. It may help you if you colour in the bell you are learning with a highlighter pen - On paper not the screen! Don't just learn one bell, there may be occasions when there is more than one learner so it will be no good if you all want to ring the same bell.
The Method Diagram is printed on the right hand side, by convention the covering tenor bell isn't shown in diagrams as it doesn't move about. The tenor's work is included in the table below. When bells lead they do so from the eighth bell (tenor) If plain hunt triples is rung without a covering tenor, that is just bells 1 to 7, when you lead you follow the last bell on the previous row as there is no covering tenor to follow.
Plain Hunt on 7 Bells with the Tenor Covering
Change ⇒
Handstroke / Backstroke ⇒
R
o
u
n
d
s
1st
H
2nd
B
3rd
H
4th
B
5th
H
6th
B
7th
H
8th
B
9th
H
10th
B
11th
H
12th
B
13th
H
R
o
u
n
d
s
Treble Counts Places
2
3
4
5
6
7
7
6
5
4
3
2
L
L
Rings after
8
2
4
6
7
5
3
2
4
6
7
5
3
8
8
Second Counts Places
L
L
2
3
4
5
6
7
7
6
5
4
3
2
Rings after
1
8
8
4
6
7
5
3
1
4
6
7
5
3
1
Third Counts Places
4
5
6
7
7
6
5
4
3
2
L
L
2
3
Rings after
2
4
6
7
5
1
2
4
6
7
5
8
8
1
2
Fourth Counts Places
3
2
L
L
2
3
4
5
6
7
7
6
5
4
Rings after
3
1
2
8
8
6
7
5
3
1
2
6
7
5
3
Fifth Counts Places
6
7
7
6
5
4
3
2
L
L
2
3
4
5
Rings after
4
6
7
3
1
2
4
6
7
8
8
3
1
2
4
Sixth Counts Places
5
4
3
2
L
L
2
3
4
5
6
7
7
6
Rings after
5
3
1
2
4
8
8
7
5
3
1
2
4
7
5
Seventh Counts Places
7
6
5
4
3
2
L
L
2
3
4
5
6
7
Rings after
6
5
3
1
2
4
6
8
8
5
3
1
2
4
6
Tenor is always last
8
8
8
8
8
8
8
8
8
8
8
8
8
8
Rings after
7
7
5
5
3
3
1
1
2
2
4
4
6
6
7

Printed from www.ringbell.co.uk/methods/ph7.htm