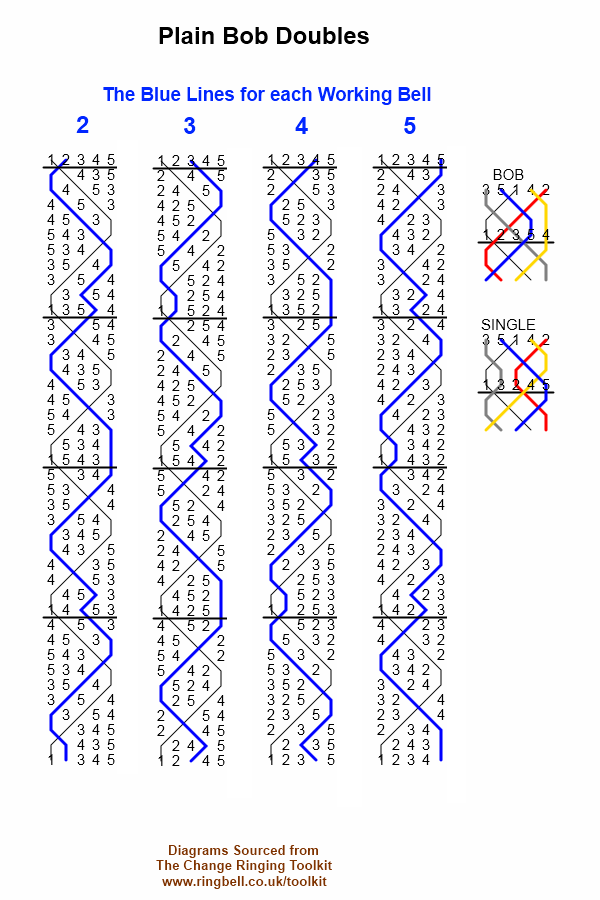 Plain Bob Doubles
Where do I start?
This diagram shows the order of work in the method. The accompanying table shows the first few changes in the method and the first work you do as you move around the circle.
Starting Positions in Plain Bob Doubles
Bell
No
Starts
With
Starting
Places
First
Work
2
In to Lead
(2)LL23455..
3/4 Down
4
Hunt In
(4)32LL234..
Long Fifths
(4 Blows in fifths)
5
One blow in fifths, then hunt in
(5)5432LL2..
3/4 Up
3
Hunt out to the back
(3)455432L..
2nds
Work at Bob and Single in Plain Bob
This table illustrates how you will be affected if the conductor calls a Bob or Single indicated by an underscore. Note:- When unaffected the places you count will stay the same but order you meet the bells changes.
How the Conductor's calls affect your work
About
to
Do
Bob Called
Single Called
Do This
Next Work
Do This
Next Work
3/4 Down
543432L..
Run In
5432LL2..
3/4 Down
Make 3rds and Out
5433455..
2nds
2nds
LL22LL2..
Run Out
LL23455..
2nds
Unaffected
3/4 Down as usual
3/4 Up
2343455..
Make 4ths and In
234432L..
Long Fifths
Run Out
2345543..
3/4 Up
Long 5ths
4555543..
Unaffected
3/4 Up as usual
Two blows in 5ths,
Run In
455432L..
Long 5ths
Tip:
The single is rarely used in Plain Bob Doubles, so ask your instructor whether you need to learn it. Your instructor may often use these terms. If a Bob is called as you are about to do
34 Up
the work you do is called 'Making the Bob', other pieces of work are 'Run In', 'Run Out' .
Another View
People learn in different ways, by presenting the same information in different formats maximises the chance of it being understood. The diagram below is based upon an idea from Anne Robinson, adapting a blue circle diagram of a plain course to show the work at a call.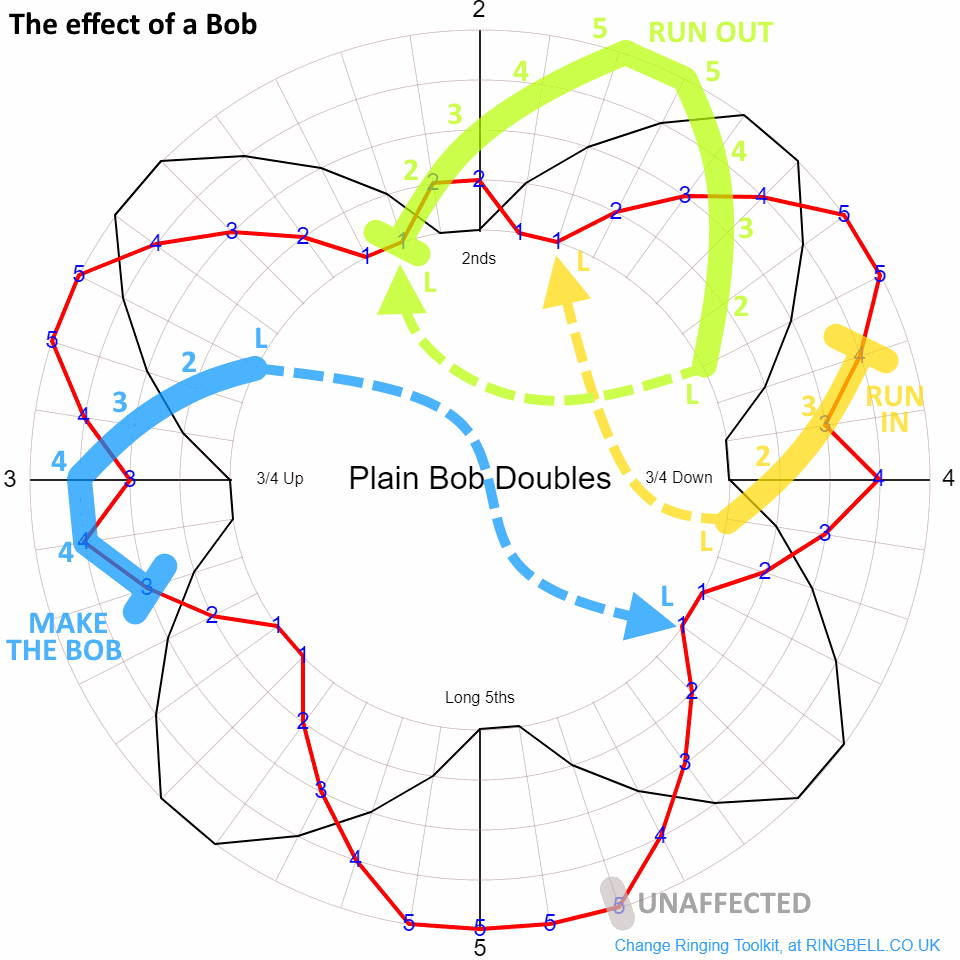 The conductor will call at the point marked by the bar across the red line of the plain course, change your counting to follow the route of the thicker line back to the point where you lead twice, then pick up the red line of the plain course at that point.
Printed from RINGBELL.CO.UK