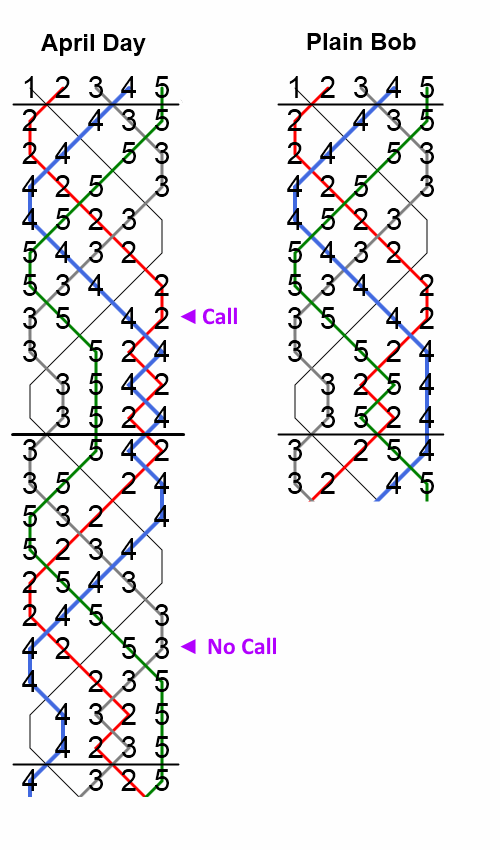 April Day is a variation of Plain Bob Doubles by using a Grandsire Single as the call. The first lead of Plain Bob without a call is shown to illustrate the differences.
April Day (Doubles)
Where do I start?
April Day is variation of Plain Bob Doubles, meaning you ring Plain Bob until a call, therefore you can't have a plain course of April Day, as it would be just Plain Bob. The call in April Day is the single used in Grandsire Doubles, it is called when the treble is in third place (Marked as a Purple Triangle) in the diagram above, unlike Plain Bob where the call is made when the treble is in seconds place.
This diagram shows the order of work in the Plain Bob Doubles. The accompanying table shows the first few changes in the method and the first work you do as you move around the circle.
Starting Positions in April Day (Same as Plain Bob Doubles)
Bell
No
Starts
With
Starting
Places
First
Work
2
In to Lead
(2)LL23455..
3/4 Down
4
Hunt In
(4)32LL234..
Long Fifths
(4 Blows in fifths)
5
One blow in fifths, then hunt in
(5)5432LL2..
3/4 Up
3
Hunt out to the back
(3)455432L..
2nds
Work at a Call in April Day
This table illustrates how you will be affected if the conductor calls at the underscored place. Otherwise you ring Plain Bob Doubles. The words the conductor says may vary, some might call 'Bob' others, 'Grandsire Single'.
How the Conductor's calls affect your work
About
to
Do
When the Conductor Calls
Do This
Next Work
3/4 Down
5543432L..
Double Dodge 4/5 Down
55454543..
3/4 Up
2nds
2LL22LL2..
Unaffected
3/4 Down as usual
3/4 Up
L2343455..
Make Long Thirds
L233332L..
Long Fifths
Long 5ths
34555543..
Double Dodge 4/5 Up
34545455..
2nds
Printed from RINGBELL.CO.UK